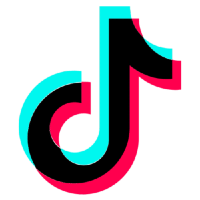 URL: https://www.tiktok.com/
Parent company: Bytedance 
Founded: September 2016
CEO: Vanessa Pappas
Headquarters: Culver City, California
Employees: 6,500
Total Number of Monthly Active Users:
1.2 billion (Source)
Last updated: 13/03/22
---
Total Number of TikTok Downloads in 2021:
656 million (Source)
Last updated: 13/03/22
---
Consumer Spending on TikTok in Q4 2021:
$824.4 million (Source)
Last updated: 13/03/22
---
Total Number of Monthly Active Users in the U.S.:
138 million (Source)
Last updated: 13/03/22
---
Total Value of TikTok:
$50 billion (Source)
Last updated: 13/03/22
---
Estimated TikTok revenue in 2021:
$4.6 billion (Source)
Last updated: 13/03/22
---
TikTok Demographics
Number of  TikTok users per year
| | |
| --- | --- |
| | Number of Users (In millions) |
| | |
| | |
| | |
| | |
| | |
TikTok Financial Statistics
Top TikTok Statistics
(Editor's choice) 
1. TikTok User Statistics 
The latest (January 2022) TikTok statistics indicate that the social media platform had 1.2 billion monthly active users globally (Statista, 2022).  
These figures place the popular app as the 5th largest platform, well ahead of others that have been there for a lot longer such as Twitter, Snapchat, and Pinterest.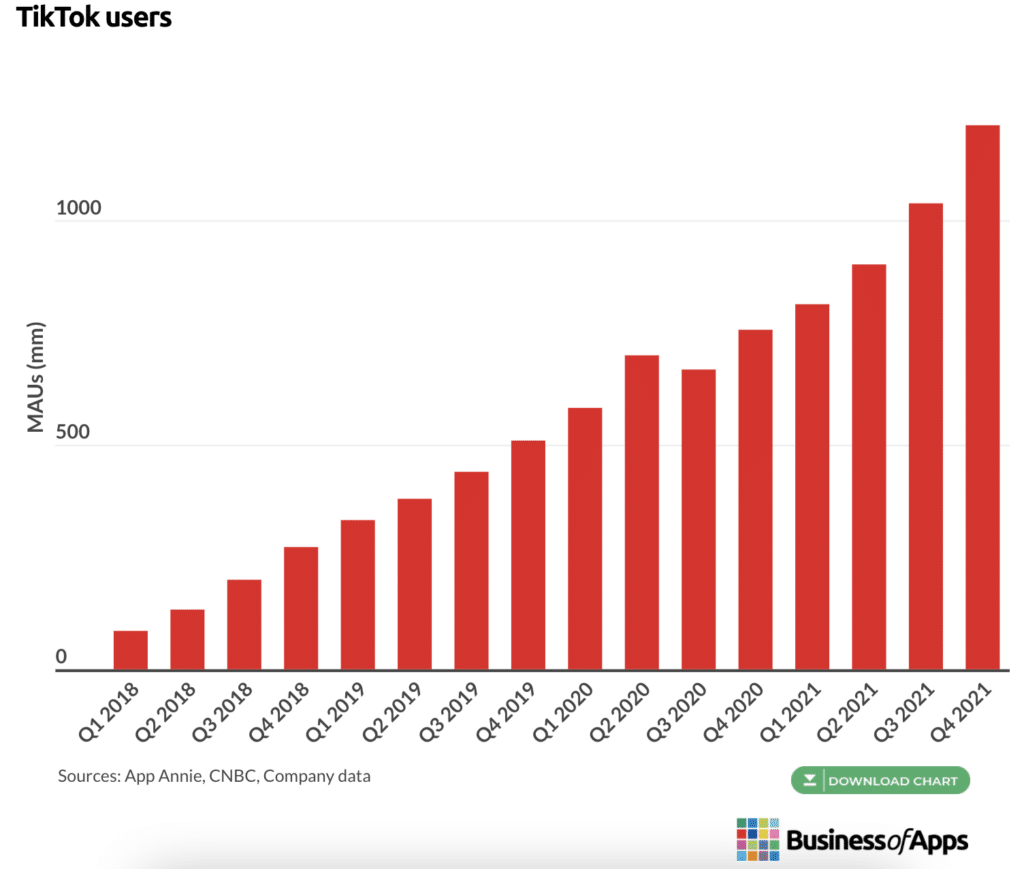 The 1.2 billion user statistics do not, however, include users from China, as the app operates in the country under a different name.  
Douyin, the Chinese version of TikTok boasted of up to 600 million daily active users in 2020. This makes both versions of the app have over 1.8 billion daily active users worldwide. 
2. TikTok Download Statistics 
TikTok stats indicate that the platform cloaked its first billion downloads in February 2019, gaining half a billion more in just under 8 months. These figures are nothing short of impressive considering that it was only launched in 2016.  
With over 656 million downloads in 2021, TikTok now has a total of over 3 billion downloads globally. It is one of the few social media platforms to have had over a billion downloads, such as Facebook.
It was only in January 2021 that TikTok was beaten in terms of total app downloads by the messaging app Telegram which cloaked in 63 million downloads. TikTok followed closely behind with 62 million downloads during that month. 
3. TikTok Demographics: Age 
TikTok has really hit the nail on the head when it comes to the younger generation. These figures are however changing fast, as the older generation picks up the nitty-gritty of the app.  
In 2021, 43% of TikTok's global audience of TikTok was between 18 and 24 years old (Datareportal, 2021), as opposed to the 3.4% of TikTok audience that is older than 55.
In the U.S., the biggest TikTok age group in 2021 were 10-19-year-olds (25%), followed by 20-29-year-olds (22.4%.)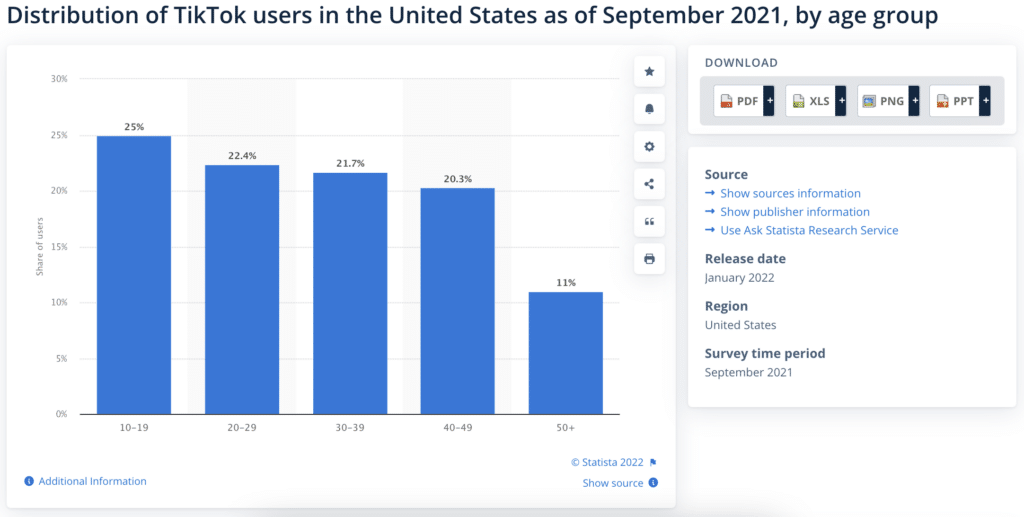 So why is TikTok so popular among the younger generation? Simply put, it is by design. In a way, TikTok creators understood the younger generation in a much better way, and this could be evidenced by the fact that their initial target audience was users aged 18 and below.  
Only Snapchat remains to be the social media platform with more popularity among US teens. 
TikTok offers the young ones a platform to express themselves creatively while sharing videos of themselves dancing, singing, or lip-synching to their favourite or trendy tunes.  
4. TikTok Demographics: Gender 
57% of TikTok users are female and only 43% are male (Datareportal, 2021.)
These numbers have been consistent for a long, with only a few dips. However, the trend may change if what we saw recently becomes the new norm.  
In March 2021, female users accounted for 61% of TikTok's active user accounts in the United States.  
According to App Ape, male users only accounted for 39% of the video-sharing app's user base on the Android platform.  
Teenage female users accounted for 16.4% of TikTok's active user accounts in the United States. Female users aged 30 to 39 years were the second largest user group, accounting for 13.8% of the video-sharing app's user base on the Android platform (App Ape). 
5. How Many Countries is TikTok Available In? 
TikTok is currently available in 155 countries and in 75 languages (Apptrace, 2021).  
While there are many strategies that the parent company (Bytedance) used to penetrate most parts of the world, many experts attribute TikTok's success in the west to its predecessor Musical.ly and Douyin for its Eastern users.  
TikTok did an impressive job trying to increase its Asian followers.  
There were about 200 million TikTok active users in India and 43 million downloads in Pakistan before it got banned in the countries.  
There are currently three other countries that have banned the app including Bangladesh, Indonesia, and China. The ban in India was a result of the ban of other Chinese apps which the government thought was used to spy on its sovereignty.  
Bangladesh, Indonesia, and Pakistan all banned the app on various grounds, including the promotion of 'indecency' and cyberbullying.  
Douyin, which is the Chinese version of TikTok is the only permitted version in mainland China, meaning the global version of TikTok isn't available within the country.  
Besides being a popular app in Asian countries, TikTok has been gradually rising in other parts of the world, especially in Europe.  
According to the latest TikTok statistics, countries like Poland and Norway have experienced a surge in the rise of TikTok downloads over the last couple of months.  
6. TikTok Usage Frequency 
75% of all downloaded apps are only accessed once and then entirely forgotten. However, as 90% of all TikTok users access the app on a daily basis, you can be sure that this app is part of the remaining quarter.  
In other words, nine out of ten TikTok users open the app multiple times daily   
The average time spent on TikTok is 52 minutes per day, with each session taking about 10.85 minutes. 
Moreover, 54% of internet users from the U.S. go to TikTok more than 2 times per day, which makes TikTok one of the platforms where users consume different content throughout the day.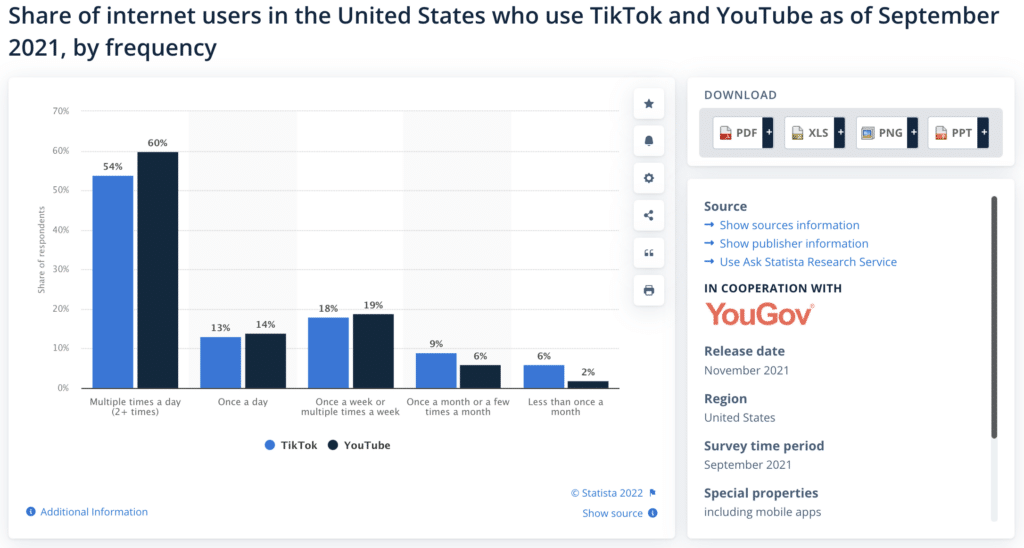 Most users prefer TikTok as a source of entertainment.  
However, despite the obvious fact that more people prefer watching than creating content, there are still millions of videos uploaded on the platform daily. This is a clear indicator of the creative freedom that TikTok offers as a social platform. 
7. TikTok Engagement Rates 
Micro-influencers had engagement rates of 17.96% on TikTok, 3.86% on Instagram, and 1.63% on YouTube. (Influencemarketinghub, 2021.)
It is clear that TikTok has the highest engagement from users than other social platforms.

TikTok engagement rate is calculated as the sum of likes, comments, and shares, divided by the number of views. 
Thus, the formula can be written as the following: 
((Number of likes + number of comments + number of shares) / number of views) * 100%. 
TikTok's audience is far more engaged compared to that of other platforms like Instagram, whose engagement rates only depend on the profile's audience size.  
For instance, TikTok creators with over 500,000 followers on average have a higher engagement rate than those with only 20,000 followers. However, they will have lower engagement rates than creators with only 5,000 followers. 
Marketers also have to take note of these engagement rates, as a TikTok account with 100,000+ followers has an engagement rate of 5.30% compared to Instagram's 1.10% and Twitter's 0.30%. 
8. How Much do TikTokers Make? 
The easiest way to earn money on TikTok is through 'gifting' via the app's virtual currency.  
On average, a TikToker with approximately 500k followers with good engagement levels can expect up to $450 in gifts, which they can redeem as cash.  
Other ways standard influencer monetization methods on TikTok include:  
Brand partnerships  
Cross promotions 
Selling merchandise  
Getting paid to attend brand events, etc.  
As of 2022, it was estimated that TikTok video creator Charli D'Amelio earned $17.5 million. Earnings include advertising revenues as well as sponsored content and event appearances.  
Here's what the top-earning TikTok influencers made in 2021:  
9. TikTok is Super Addictive 
According to a report on TikTok stats published by App Ape Lab, TikTok users were on the app more times a day than any other social media platform.  
With an average daily active time of 52 minutes, the younger generation tends to spend more time on the app.  
The average number of times a Twitter user would open the app would be around 15.  
However, a TikToker's daily activation is more than double that, with TikTok users opening their apps 38 to 55 times a day. 
The TikTok algorithm is mainly to blame for this addiction. The system is able to detect the type of content that you prefer watching most of the time and then it customizes the upcoming content to your liking. This makes the user keep staying in the app for longer periods.  
Other reasons that could be behind the TikTok addiction are: 
The ease of access – all you have to do is open the app and let the algorithm do its job, no need to manually search for videos. 
Short duration videos 
Helps people stay on the trends, such as knowing and taking part in the latest challenges, e.g., the bottle cap challenge, kiki challenge, etc. 
10. Top TikTok Content Categories 
As of June 2020, the most popular content categories on the video-sharing social app TikTok all have over one billion views.  
The most viewed content category on the app was entertainment content, with this category having accumulated 443.3 billion hashtag views collectively.  
The second most viewed content category was dance with a total of 150.3 billion hashtag views (Statista, 2020).  
Most popular content categories on TikTok worldwide as of June 2020, by number of hashtag views in billions (Source: Statista) 
These numbers have since shot up, and the leading category (entertainment) now plays at around 535 billion views. Creators in this category mainly deal with comedy, special effects, and other non-traditional methods of entertainment.  
The most followed TikTokers are creators in the "dance" category which is the second most-watched TikTok category at 181 billion views.  
As of march 2022, @charlidamelio is the most followed TikTok star with over 133.3 million followers. 
Note: Please link back to omnicoreagency.com and this page when you reference/quote the statistic.
Photo Credit: Unsplash