Sometimes you just need to see what's going on outside.
Maybe you're raking up leaves and it's starting to get dark out.
Perhaps there's something moving about outside and you'd like to know what's going on.
Whatever your reason, the answer to all of these concerns is a motion sensor outdoor light.
The motion sensor is a great way to always see where you're walking and to help prevent would-be thieves from considering your house.
Of course, you don't want to just go with any old motion sensor flood light. These lights have come a long way since visiting your grandparents had them installed to make sure kids stayed off their lawn.
There are all kinds of motion sensor lights out there on the market today. Here are eight of our favorites.
Not all motion sensor lights are created equal. The entire purpose of these motion lights is to illuminate a given area.
At other times you just want a blast of bright light over your entire property.
So what you're looking for might be a bit different from your neighbor. Whatever it is you're considering though, make sure to keep all of these different things in mind.
1. Lighting Angle and Distance
It's a flood light, so you want a lot of light. But where is the light directed, and do you need one sensor light or a series of sensor lights to cover the given area?
The best way to determine this is the distance your motion sensor lighting will travel and the illumination angle.
Does it light up the full 180 degrees of one side (so with two lights you can fill an entire property)? Or maybe you need a smaller angle as to avoid blasting light into your neighbor's window.
Whatever you're looking for, this is something to consider.
2. Kind of Light
Ideally, you want LED lights. These are brighter and will last longer. Changing out motion sensor lights can be a bit of a pain because these lights are usually higher up and you need to break out the ladder and other equipment to make it to the bulb. So naturally, the less often you have to change out the light the better.
3. Power Source
This one is often overlooked but extremely important.
What kind of lighting source does your motion sensor lights require? Can you use a rechargeable battery or does it connect to a traditional power source? If you have easy access to the lights (such as when installing on a patio) the battery option may not be a bad way to go as it is easier to install. If you're having the light installed higher up you will likely want a traditional power source.
Just something else to consider.
4. Price
The price point for your outdoor motion sensor lighting will vary. Lights on this list start at under $50 and go all the way up to under $250. Just what exactly do you get for an additional $200?
You'll have to keep reading to find out.
The Best Outdoor Motion Sensor Lights
Product
Model
Lumens
Power source
Price
LEONLITE 20W
Dual Head
1800
Wired
Ring Floodlight
1800 x2
Wired
MR. Beams
MB3000
500
Battery
RAB Lighting
Super Stealth
2500
Wired
Heath/Zenith
Decorative Light
1500
Wired
The editor's pick really comes down to two split groups: smart motion sensor lights or traditional motion sensor lights. If you want a smart motion sensor light that allows you to control the device with Amazon Alexa than the Ring design is a great option to go with. It bundles a video camera along with the motion lights.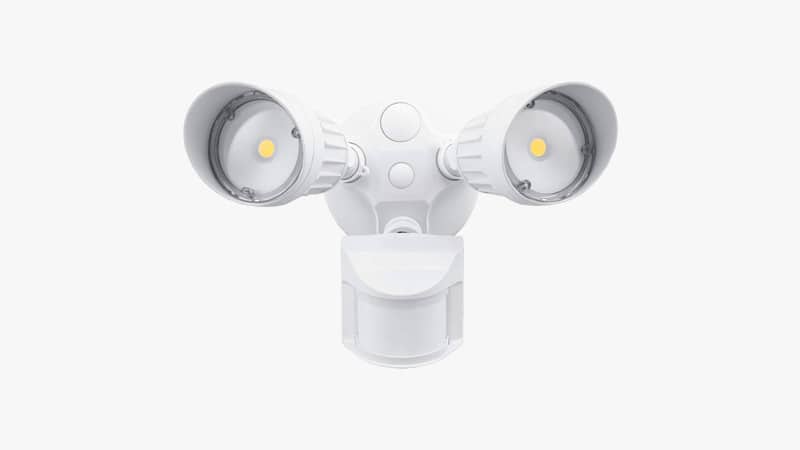 While the Ring option is great, and if that's the boat you're in by all means go that way, we decided to give our Editor's Pick to the LEONLITE 20W Dual Head Motion-Activated LED Outdoor Security Light.
We believe that more people are going to be looking for a motion sensor light that works with movement and doesn't need to come with a video camera feature. Plus, not all motion sensor lights are for security purposes but for your backyard.
Additionally, the LEONLITE 20W Dual Head Motion-Activated LED Outdoor Security Light is nearly $200 less than the Ring. With that money, you can buy an entire smart video surveillance system, or a Ring video doorbell and still save money.
Some of the highlight features we like with the system include:
Several control modes with greater flexibility of control
Easy to install and dual lights give you greater visibility
Waterproof
Lights have more than 50,000 lifetime hours, so you won't need to change the bulbs anytime soon
Dusk-to-dawn feature fades the lights up and down based on the amount of detected light, giving you more light when you need it and less light when you don't
 Under $50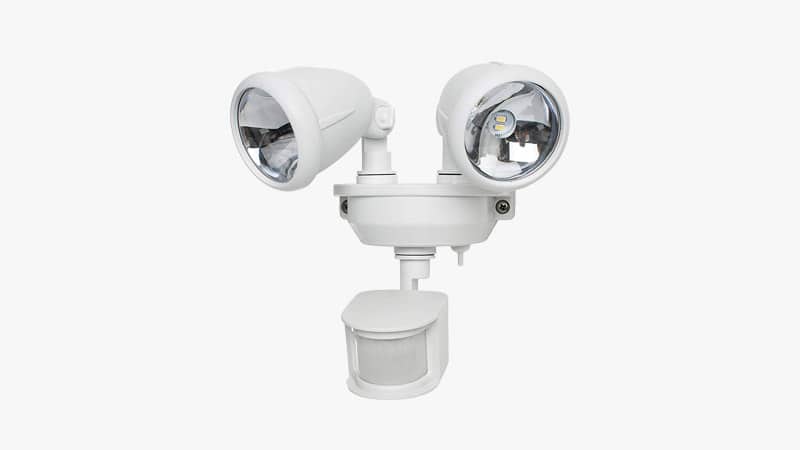 The MAXSA Innovations is an excellent entry into security motion sensor lights.
The setup uses dual lights, both of which are adjustable so you can direct the lights in the direction you want.
Additionally, the LED lights stay cool to the touch and will last longer than halogen lights.
The lights will provide illumination of up to 40 feet and each light offers a 180 degree light area. This way, you can light a complete circle, should you want to.
The lighting is also solar powered. This way, you'll never have to worry about replacing battery packs or connecting it to a hard line. Now, this does mean it will be better if you live in a mostly sunny environment, but as long as you do this is a great option.
The lights can detect movement of up to 40 feet away, and with the design, you can monitor two different locations (which is great when you have it on the corner of a house, or if you live on a corner lot).
Some of the features to consider when it comes to the MAXSA Innovations include:
Solar powered so easy installation
Dual lighting
Detects motion of up to 40-feet away
Each light covers 180 degrees.
Adjustable heads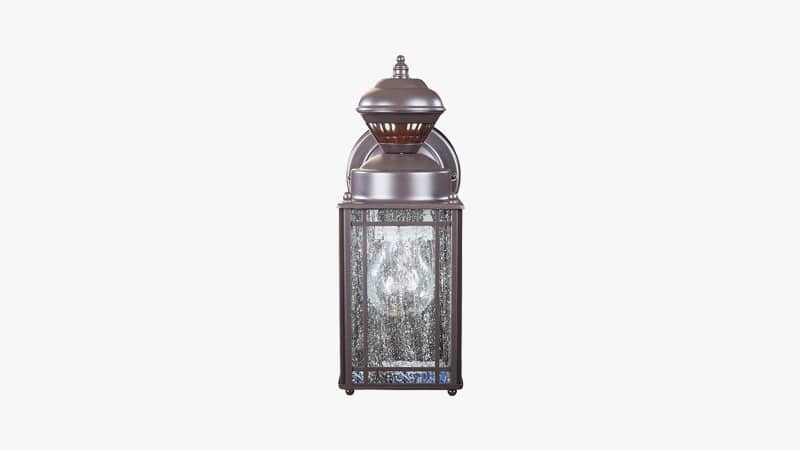 Do you want the security and touch of a motion sensor light, but you do not like the way it looks? If that sounds like you the Heath/Zenith Shaker Cove Mission Style light is perfect for you.
This light looks like a decorative light you'd find on the side of a historical building. It also comes in both silver and oil-rubbed bronze, which gives an additional touch of elegance.
Plus, the glass around the light is needed, to help give that extra touch of weathering while not looking like your traditional flood light.
It uses a single 60-watt incandescent bulb, which does mean you'll be changing it more frequently than an LED. This also isn't the kind of light you'd pick to throw light in long distances.
It is more of a light you'd install around the front porch or a walkway. It just doesn't have the kind of power you'd want for a flood light. However, the light can detect movement up to 30 feet away, so it will kick on well before you reach the front door.
The light provides up to a 150-degree angle of light. As it is designed to be installed by the front door you don't need anything further.
Some of the features of the Heath/Zenith Shaker Cove Mission Style you need to consider include:
Required current electrical line for installation
Detects up to 30-feet away
Provides 150-degree angle of light
Beautiful look and craftsman feel
Perfect for front doors or patios where you don't want larger flood lighting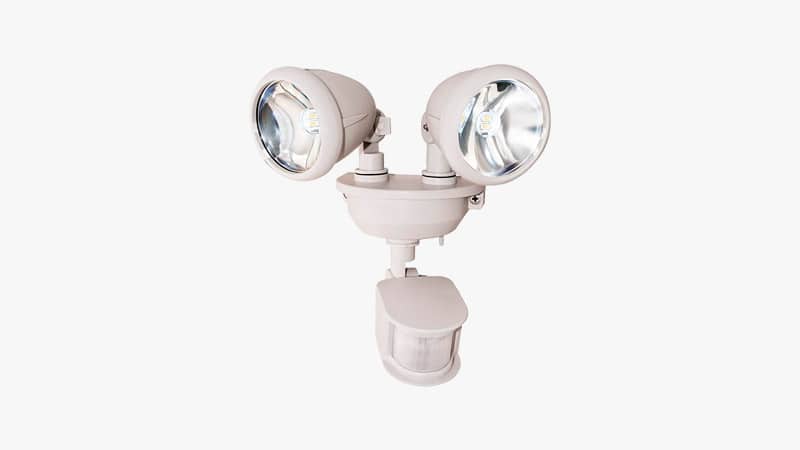 The MAXSA Solar-Powered LED Dual Head Motion Activated Security Lights is similar to the other MAXSA designed solar powered light. The main difference with this setup is the length of time it takes to fully charge the solar power and the amount of area it illuminates.
There are three solar-powered batteries within the setup. Once charged the batteries will provide 150 one-minute activations.
The lighting provides illumination of up to 30-feet away while covering a 150-degree area.
There is a black and a white version of the MAXSA Solar-Powered LED Dual Head Motion Activated Security Lights.
Basically, with this setup, you're deciding whether you want faster charging and more uses per charge for a shorter distance with 30 degrees of less coverage, or do you want fewer uses per charge but for a wider viewing area.
You may not need a full 40 feet of coverage either, in which case the 30 feet option will be better. Really it comes down to which is better for your property.
Some of the features of the MAXSA Solar-Powered LED Dual Head Motion Activated Security Lights you'll want to consider include:
150 one-minute uses on a single solar charge
30 feet coverage area at 150 degrees
Two dual headlights that can be adjusted
Runs on solar power so you don't need an electrician to install
Comes in both black and white versions
 Under $75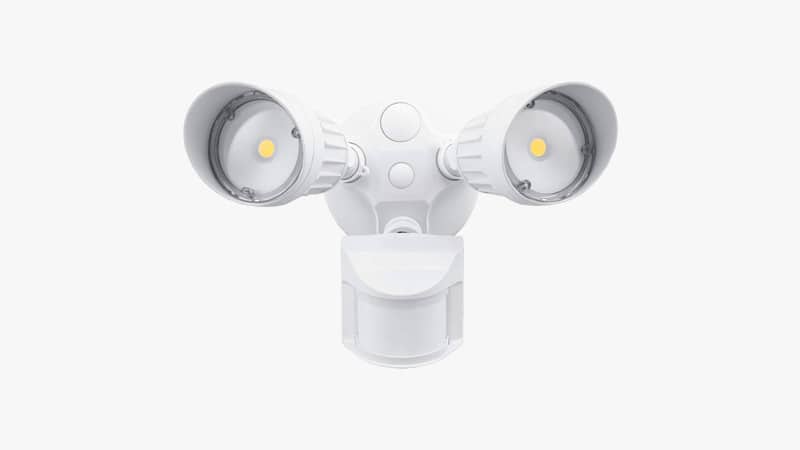 One of the big selling points for the LEONLITE 20W Dual Head Motion-Activated LED Outdoor Security Light is the lighting options you can consider. It comes in either daylight or warm white option. The warm white gives you an orange tint to it while the white is clean daylight (with almost a blue hint to it).
The setup uses 20W bulbs that produce the light of 120W halogens. This way, if you were to run the lights throughout the night you'd save $550 annually.
These lights are waterproof and the lights are blocked off so weather will not damage the weather.
Each bulb has a lifespan of 50,000 runtime hours, so you won't be pulling out your ladder anytime soon.
This setup gives you several adjustable modes, which is another highlight of the equipment. It provides you with an on-time mode, so the lights will click on at certain times. There is an auto mode where it detects movements around the sensors, and there is a dusk to dawn mode, where the lights will fade on and off based on the lighting outside. This way, there is more light when you need it, less light when you don't.
The light has a 180-degree sensing area while providing you with a 60-foot detection distance.
Now, this light will not have the full 360-degree illumination option, so this is best installed on the side of a building. However, it is a solid option for your property.
The LEONLITE 20W Dual Head Motion-Activated LED Outdoor Security Light does use an AC power source, so you may need help from an electrician installing the equipment.
Some of the features of the LEONLITE 20W Dual Head Motion-Activated LED Outdoor Security Light you should keep in mind include:
Several lighting modes for greater control
LED outdoor lighting will save you a substantial amount over traditional lights.
60-foot metering distance
Comes in both daylight and warm white light designs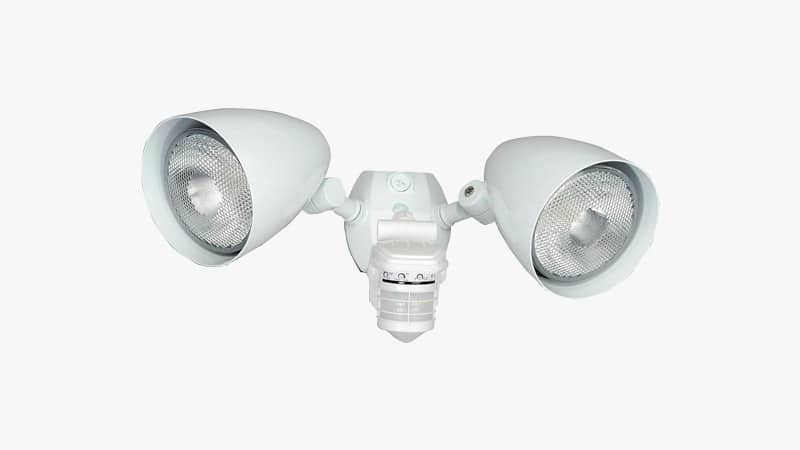 When you want lights that are protected against the elements and will be out, completely exposed to rain and snow, sunlight and wind, the RAB Lighting Super Steal 360 sensors are the way to go. The lights are protected with the half-cone designs.
Plus an additional layer ofwaterproofing protects the bulbs further.
For the RAB Lighting configuration, each individual light has a 180-degree sensor. This way, you can read a full 360-degree circle around the equipment. If you have a pole or you want to throw light from the corner of your property, this is an excellent design option.
Can adjust the sensitivity control from 100 percent to 30 percent. This way, if you don't want the full 180-degree area illuminated you can adjust this. The adjusted area will also be brighter as the light is focused.
The lighting uses a 120 volt wired connection, so you may want to contact an electrician to install the equipment. If you are bringing in an electrician you might want to have several installed at once (this way you're not paying an electrician to come out and install just one two-bulb device.
There is a timer mode you can set the light too, and you can program it to run for certain lengths of time. You can also adjust the sensitivity of the motion detection (this way if you live in a wooded area your lights won't be clicking off and on due to wind).
Some of the features on the RAB Lighting you'll want to consider include:
Several adjustment modes allow you to better control your flood lighting
120 volt wired electrical connection
Each bulb can monitor 180 degrees
Fully shielded circuits so radio frequency does not block out the ability to read the movement
Adjust sensitivity for both motion and area the light is thrown
Under $100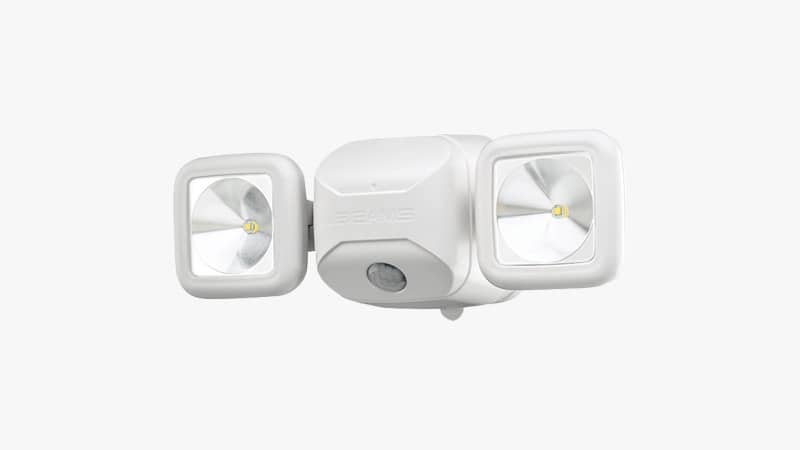 The MR. Beams wireless gear is a great purchase because while it is a bit more expensive than other setups so far on the list, it comes with two two-light setups. This way, you can place the lights on two different walls of your home, or you can double-up the lights on a single wall.
The lighting equipment comes in both white and brown. If you live in an extremely bright area (such as in Arizona or Nevada), a brown option is great as it will not show sun bleaching, plus it won't appear as dusty from the desert.
The lights use adjustable LED equipment, with each light capable of pivoting 180 degrees. Each light will also shine line on a 135-degree angle.
The lights are on the smaller side, but the equipment can pick up movement 30 feet from the lighting setup.
The MR. Beams uses a wireless LED spotlight system that is easily installed without the aid of an electrician.
The MR. Beams equipment does run on disposable lights. The manufacturer says you can change the batteries out once a year if the bulbs turn on eight to 10 times a day.
However, there's a good chance your lights will click on more than this average, so you'll likely need to replace the batteries more frequently than once a year. Due to this, you may need to consider the exact placement.
If it's just above your garage or near the front door it will be easy enough to change out the batteries. However, if you install the lighting higher up you may want to consider whether something that requires annual battery replacements is right for you.
The light automatically shuts off after 20 seconds if no additional movement is detected.
There is a dusk-to-dawn sensor built into the light, so it will not click on during the day. It is also weatherproof.
For the price, the number of lighting units you receive and the ease of installation, this is a solid option to consider.
Some of the features of the MR. Beams motion sensor lights you should consider include:
Dusk-to-dawn sensor
Detects movement of up to 30 feet
Throws light on 800 square feet
Weatherproof
Adjustable heads with each head capable of pointing in a 180 degree opposite direction
Wireless lighting with replaceable batteries
Under $150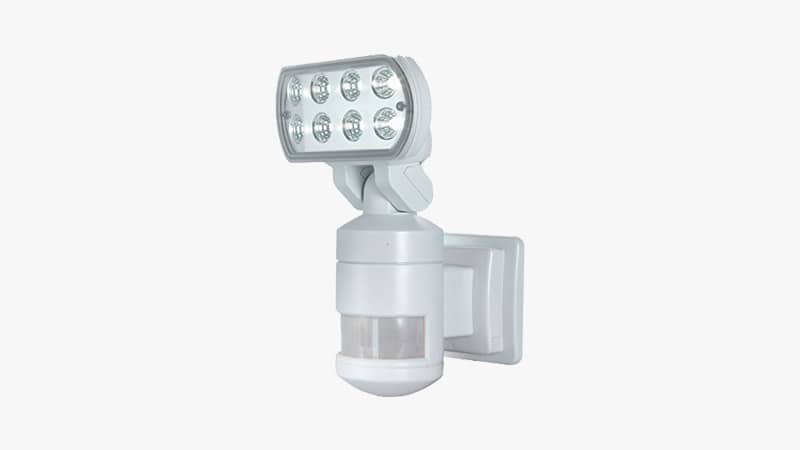 If you really want to get professional with your motion sensor lighting equipment, the Versonel Nightwatcher Pro Motorized LED Security Motion Tracking Flood Light is an excellent way to go.
The Versonel Nightwatcher works with a single motorized head, similar to a security camera that pans with movement.
The equipment works with a passive infrared sensor that can detect movement of up to 55 feet while offering 220 degrees of visibility. After the movement has left the sensor reading area the light automatically moves back to its original setup.
The Versonel Nightwatcher Pro Motorized LED Security Motion Tracking Flood Light also uses a microprocessor motion/heat activated auto tracking light head. This way, it is able to identify the movement of a person rather than the movement of a tree.
The motion sensor does require a 120V power source, so it will need to be wired into your home or office's electrical system. Due to this, you'll likely need to bring in a professional to perform the installation.
The Versonel Nightwatcher Pro Motorized LED Security Motion Tracking Flood Light is really a lighting option if you want something that provides improved security instead of just a flood light for safety. While the light will detect you moving closer to the light source, it is generally more specific for security needs.
The Versonel Nightwatcher Pro Motorized LED Security Motion Tracking Flood Light is also not the best with excessive rain. So while it will work outside, you should not leave it completely exposed to the elements (don't install it directly under the gutter where water comes out). If you can install it under an overhang this is the best way to go.
Some of the features of the Versonel Nightwatcher Pro Motorized LED Security Motion Tracking Flood Light to consider include:
Motion detection
Single head pivots based on a series of sensors
120V hard-wired into your home or office's electrical grid
LED lighting
Will detect movement of up to 55 feet away
Light centers back in original position once it has finished monitoring a previous movement
Under $250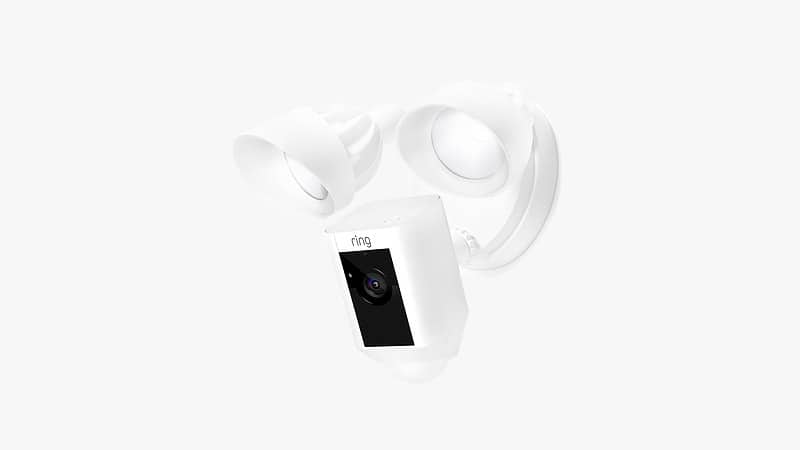 This setup does cost $100 more than the next option on the list. However, the features you get for that extra $100 are next to none.
Depending on what you're looking for, this is by far the best option out there. If you don't want a security camera built into the floodlights this isn't going to work for you (basically it's either perfect for you or you should avoid it).
First, Ring is an Amazon based smart security and appliance manufacturer. The company creates smart Wi-Fi doorbells, door monitors and other equipment. This is basically a security camera and floodlight in one.
The equipment comes in both black and white, so you can go with what works best for your personal (or professional) needs.
Each light produces 1,800 Lumens of light and is either hardwired into the home's electrical system or it uses a connected electrical box.
Each light offers a 140 degree horizontal light and 78 degrees vertical light.
The video camera feature though is what sets it apart. The camera runs at 1080p HD and will shoot in night vision with the lights are not on. You can also activate the live view feature through the Ring application (which is available on both iOS and Android).
The Ring Floodlight is a smart Wi-Fi appliance, so you'll need an upload speed of at least 1Mbps (although 2Mbps is recommended).
You can pan and zoom with the video camera, and when the lights kick on the device will automatically begin to record.
You can adjust the motion detection control on the lights. Within the app, you can tell the Ring Floodlight to monitor the movement around a sidewalk or other walkway. This way, if kids are across the street playing basketball or riding their bikes by the lighting doesn't click on.
The Ring Floodlight comes with a free 30-day trial of Ring Protect Plus, which allows you to store videos for up to 30 days. Without the cloud service the video is still stored for several hours, giving you time to download the video feed should you want it.
The Ring Floodlight is Amazon Alexa enabled. This means you can control the device with your voice using an Amazon Alexa device. If you use Amazon Fire TV you can tell the TV to bring up the security feed. If you have any other video Alexa device you can see the feed as well (you can also bring it up on your mobile phone or tablet).
If you're interested in upgrading your home's security monitoring while installing a flood light this may be something you should consider. The combination is exceptional and is unlike any of the other floodlights on this list.
Now, you can always use a different smart camera setup and a less expensive flood light, although the two working together in a single setup does make it easier.
Some of the features of the Ring Floodlight you should consider include:
Smart motion sensor light connects to Wi-Fi and creates a record of when the lights are activated
Built-in 1080p HD video camera gives you an instant security upgrade
Works with Amazon Alexa, giving you voice control over the equipment, although it does not work with other digital assistants (such as Google
Home or Apple HomeKit
Comes in both black and white
Built-in microphone and speaker allows you to hear what's going on where the lights are installed plus you can talk to whatever is near the lights as well
Ring provides Lifetime Theft Protection, so if the camera is ever stolen it will be replaced for free
There are a number of great outdoor motion sensor lights available. The price point of these different lights will vary depending on some features and what you're interested in. You can go anywhere from your basic flood light all the way up to a Wi-Fi enabled smart Ring floodlight with Amazon Alexa control.
If you're looking for a smart motion sensor and you want to go all out on your home's security system, opting for the Ring Wi-Fi design may be what's best for you.
However, if you already have a smart doorbell you really don't need this option (if you're installing it near your front door). Plus, you can combine a Ring doorbell with a standard motion sensor floodlight for less than the two together.
That is why we decided to go with the LEONLITE 20W Dual Head Motion-Activated LED Outdoor Security Light. For the average home or property owner, this device gives you everything you need, plus a number of programming features that make your equipment that makes it a great bang for your buck.
The Ring device is great if that's what you're looking for, but in most situations, if you just want a flood light with some control designs, you need to check out the LEONLITE 20W Dual Head Motion-Activated LED Outdoor Security Light.
Photo Credit: Unsplash