It's no secret that a well-designed website is essential for any business in today's digital age.
But for medical spas, the stakes are even higher. Not only does your website need to look good, but it also needs to be compliant with HIPAA regulations.
Your med spa website needs to be visually appealing and functional. It should include clear calls to action, easy-to-navigate menus, and beautiful visuals that showcase the services offered.
In addition, it should also be mobile-friendly and include online booking capabilities.
In this post we will showcase some of the best med spa website designs.
But first…
Let's go over some tips to consider when designing your med spa.
Tips for designing a
med spa website
First impressions are everything and for businesses in the aesthetic industry, your website serves as your first impression to your prospective customers.
Here are some tips for designing a med spa website that is both beautiful and effective:
Create a welcome and soothing ambiance by using bright colors and graphics.
Describe your products and services in a clear and succinct manner to demonstrate how they differ from those of your competitors.
Include satisfied customers' testimonials to develop confidence and credibility in your business.
Use simple menus and clear call-to-actions to assist visitors find what they're looking for.
Make sure your website is mobile-friendly to accommodate the growing number of people who use their smartphones and tablets to surf the web.
Make scheduling a consultation or treatment easy for potential clients by including an appointment booking system.
Use high-quality images that accurately represent your med spa
These are some tips from what we consider as must-haves for your medica; spa website:
Now, Let's get over to the list of websites that we feel are doing it right.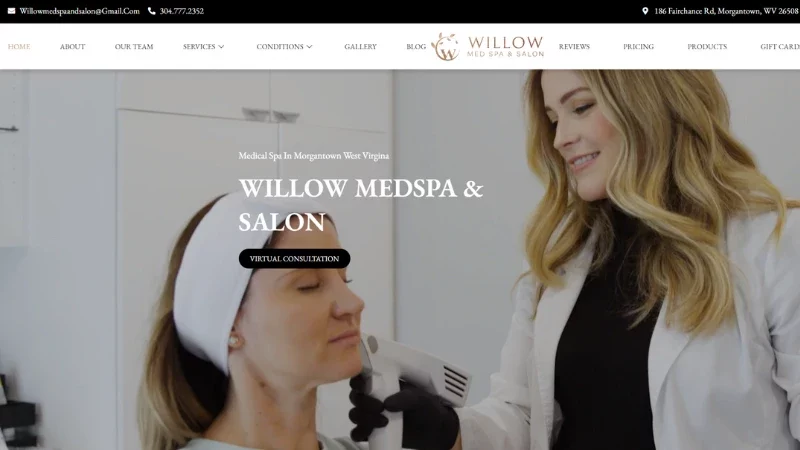 Willow Med Spa incorporates video into their site's workflow.
To keep things simple and eye-catching, this luxury spa's website features a unique video at the top.
The color scheme is calming and inviting, and the overall aesthetic is one of luxury and relaxation. The design is simple and easy to navigate, with clear calls to action.
Services offered are clearly displayed on the homepage, with a strong focus on specials and promotions.
The website also features an online booking system, making scheduling appointments easy for potential clients.
Willow Med Spa's website is an excellent example of a modern, luxury med spa website design.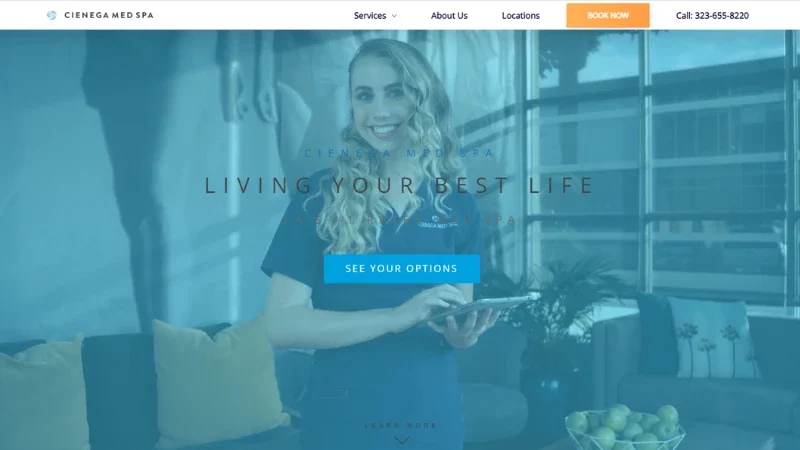 Cienega Med Spa's website is clean and modern, focusing on providing a luxurious experience for its customers.
Their use of bright colors and high-quality pictures demonstrates that they are a trustworthy and competent company.
The website is simple to use, and the products and services it provides are well-described.
To summarize, this is an excellent medical spa website that is certain to draw new customers.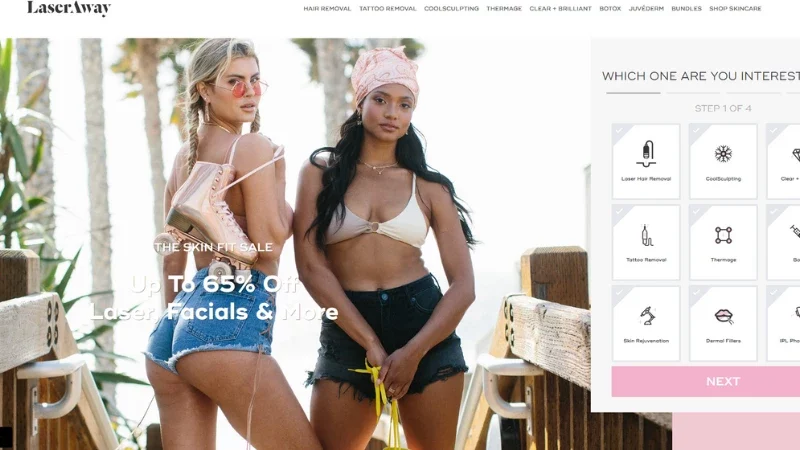 Laseraway's website does an excellent job of making it easy for visitors to obtain the information they're looking for.
All of these objectives are met on the website thanks to its highly organized design and uncomplicated navigation, as well as the numerous "Call to Action" buttons leading visitors to specific pages of interest.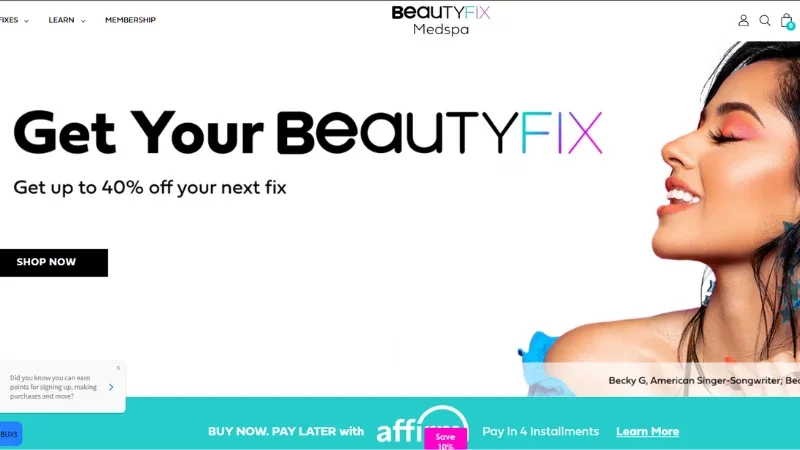 There's something fresh and timeless about this website's design.
The simple layout and subdued colors assist to generate a sense of calm, while the photographs and videos give potential clients a taste of what the Beautifix Medspa experience is all about.
In addition, the website does an excellent job of presenting the spa's different services and the skilled staff that provides them.
Beautifix Medspa's website provides all the information a potential customer needs to make a decision about whether or not they want to visit.
The content on the website of Beautifix Med Spa is of the highest standard. The site doesn't waste time with unnecessary sales pitches.
The website's material clearly considers the target customer.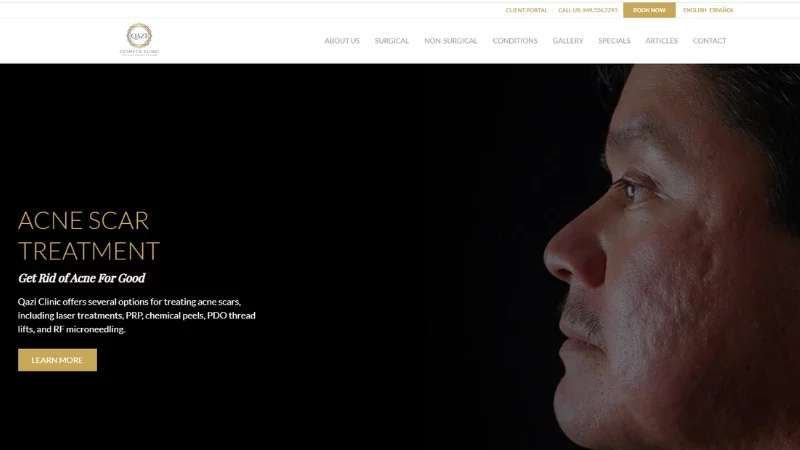 The Qazi Clinic's website is another excellent illustration of a med spa website's aesthetics.
The website has a white backdrop with black text.
Navigation is simple and straightforward, and the overall design is sleek and professional.
The Qazi clinic's navigation is consistent on all platforms. Regardless of the size of the screen, it retains a consistent visual style and functionality.
The Qazi clinic's website is simple, clear, and distinct, making it an overall favorable experience for visitors.
Additionally, the site makes it clear where the primary navigation is located.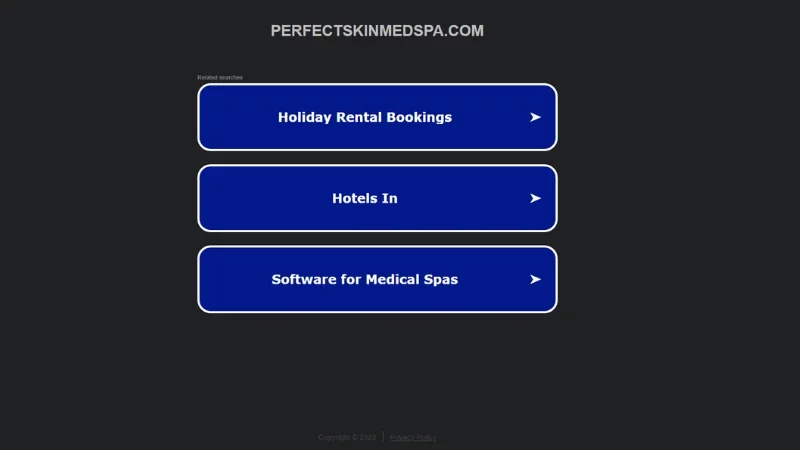 Designed with a sleek, contemporary aesthetic, the website of Perfect Skin Med Spa conveys an air of professionalism and competence.
An interactive slider with images of their spa treatments appears on the homepage.
Website visitors can find everything they need to know about the spa and its services on the website.
As a convenience to visitors, the website features an online appointment scheduling system.
The site doesn't overload the user's brain with a bewildering number of menu alternatives.
Overall, Perfect Skin Med Spa's website is an excellent example of a well-designed med spa website.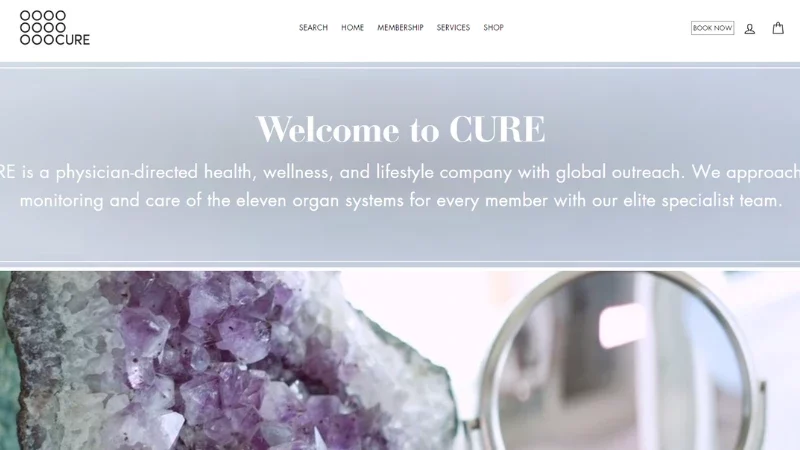 Cure Daily appears to be cognizant of the fact that a visitor's first impression of a website might have a good or negative impact on sales.
The homepage of Cure Daily's website has been thoughtfully created to appeal to the ideal med spa customer.
The website's overall homepage design includes images and videos that are appealing to the target audience.
The main page looks the same on desktops and mobile devices thanks to responsive design.
Additionally, the MedSpa's homepage explains what the MedSpa performs and the value it provides to its consumers.
Calls to action appear above and below the fold in a style that is concise but persuasive.
There are more resources, such as news and podcasts, available on the homepage. It's a convenient way to get to these extra resources.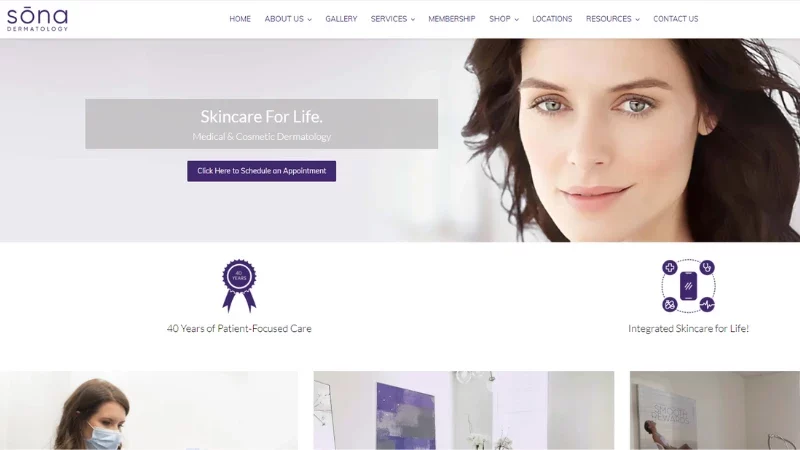 Sleek and contemporary, the SONASKIN website showcases the company's distinctive line of services.
The background is blurred while the camera zooms in on a close-up of a woman's face for the cover image. The interface is easy to use, with a minimal and uncluttered appearance.
If you're looking for a specific service, you can simply scan through the information to find it. They also have a well presentation and organization of content on their website.
The SONASKIN med spa website is an outstanding example of a sleek and contemporary website design for a medical spa.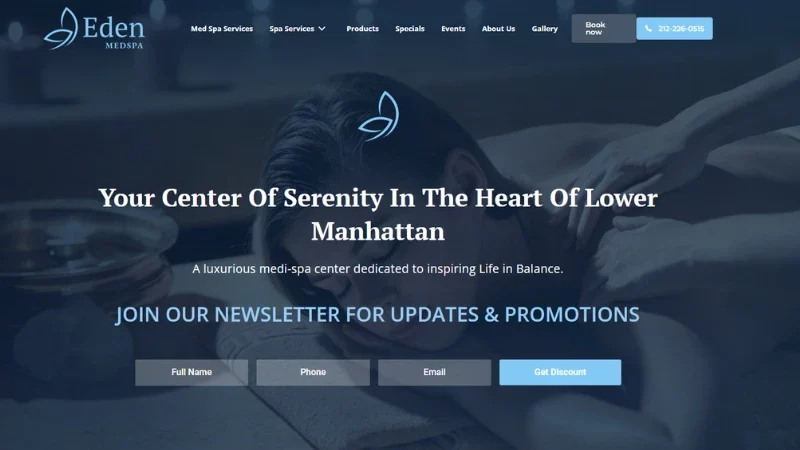 The Eden Med Spa NY is a well-known medical spa in the Big Apple. Their website has a sleek, modern look and is simple to use.
Their website has a gorgeous homepage that promotes their services and provides a detailed list of those services, as well as descriptions of what each one entails.
There's also an easy-to-navigate online booking system, as well as an engaging blog with helpful content.
For Eden MedSpa, the look and feel of its website is an extension of the company's whole identity. The website is well-designed, polished, and easy to use.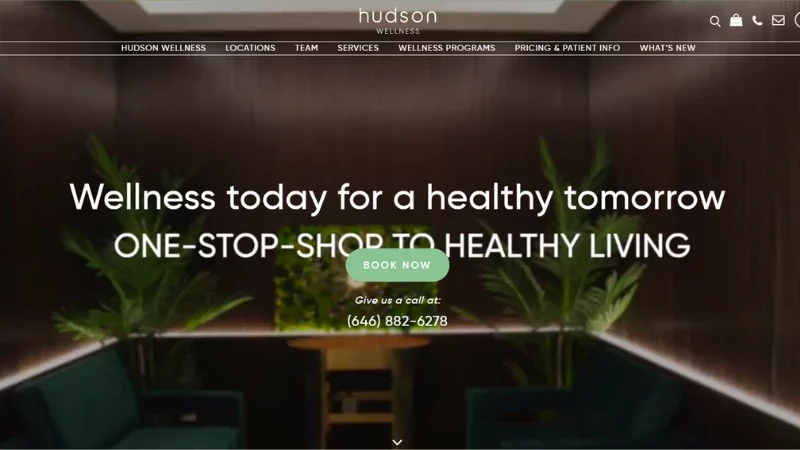 The website of Hudson Medical is easy to navigate, features a contemporary style, and places an emphasis on the various services that the company provides.
The site features a contact form and a map showing the company's locations, making it easier for visitors to navigate.
Additionally, the site uses conversion components to perfection and avoids being overtly salesy. 
The site's chat pop-ups are designed to be user-friendly only poppinn up after clicking on a service link.
Hovering over the service links causes their colors to change, further enticing visitors to click.
It's important to keep in mind that none of these sites should be viewed as models to be copied by your website designer. You can however use them as insights to repurpose and edit the sections of your website to match your audience's needs.
And of course, it needs to rank high in search engine results. That's where medical SEO comes in. Here are some essential elements your site must have to ensure it ranks high and attracts patients.
A responsive design: A flexible website is crucial since many people now use mobile devices to access the internet, which means your site must be able to adjust to any screen size.
Unique and relevant content: For your site to rank high in search results, you need to have unique and relevant content that includes the keywords potential patients are searching for.
Optimized images: Search engines can't read images, so you need to ensure they are properly optimized with alt text that includes your keywords.
A fast loading time: Customers won't wait around for a slow website to load, so it's important to make sure your site is fast. You can do this by optimizing your images and using a content delivery network.
Secure hosting: HIPAA compliance is essential for medical spas, and one way to ensure your site is compliant is to use a secure hosting service.
By following these tips, you can make sure your medical spa website is designed for success.
If you're in the med spa business, you know that having a strong online presence is essential to attracting new customers and growing your business.
And, one of the most important elements of a strong online presence is having a well-designed website that ranks high in search engine results.
Omnicore Healthcare Marketing services can help improve your website's ranking in search engine results, making it more visible to potential customers.
In addition, we can help to improve your website's design and functionality, making it more user-friendly and effective at converting visitors into customers.
If you're looking for ways to improve your med spa business, contact us today to learn more about how our services can benefit your business.
Photo Credit: Unsplash